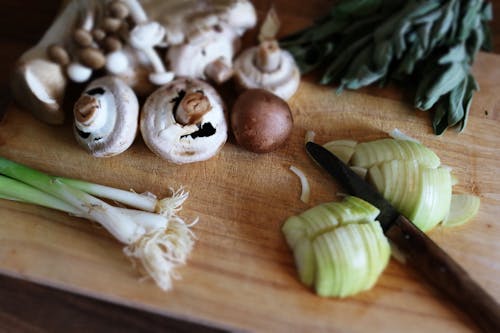 Ingredients
2 tablespoons butter
1 onion, sliced
2 cloves garlic, chopped
1 teaspoon thyme, chopped
8 ounces mushrooms, sliced
salt and pepper to taste
1 splash brandy
1/4 cup beef broth
1/2 cup blue cheese, crumbled
Directions
Step 1: Melt the butter in a pan.
Step 2: Add the onion and saute at medium heat until tender, about 5-7 minutes.
Step 3: Add the garlic and thyme and saute until fragrant, about a minute.
Step 4: Add the mushrooms, season with salt and pepper and saute until tender, about 10-15 minutes.
Step 5: Add the brandy and broth and deglaze the pan. Simmer until it has reduced by half, about 3-6 minutes.
Step 6: Remove from heat and stir in the blue cheese eat this just like this on a bun or put on top of your favorite burger.