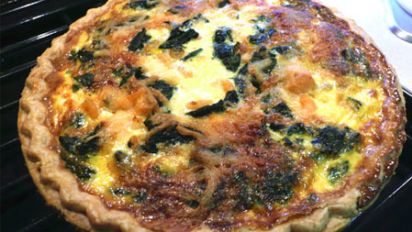 Want to impress you date, family or company, this is the dish will do the job.
Ingredients
One cup Swiss cheese, shredded
9 inch pie crust
5 - 6 ounces lump crabmeat
Handful of fresh spinach
1/2 pound shrimp peeled and tail off
4 large eggs
1/2 cup heavy cream
1/2 half and half
1 cup ricotta cheese
salt and pepper
Directions
Step 1: Preheat oven to 350 degrees. Place have the cheese in the unbaked pie shell. Layer with crabmeat, spinach and shrimp. Top with remaining cheese.
Step 2: Beat eggs in a large bowl and add the rest of the ingredients, pour over seafood and cheese.
Step 3: Bake about 15 minutes, then reduce oven temperature to 300. Bake another 30-45 minute or until center is set. Let stand for 10 minutes before cutting and serving.